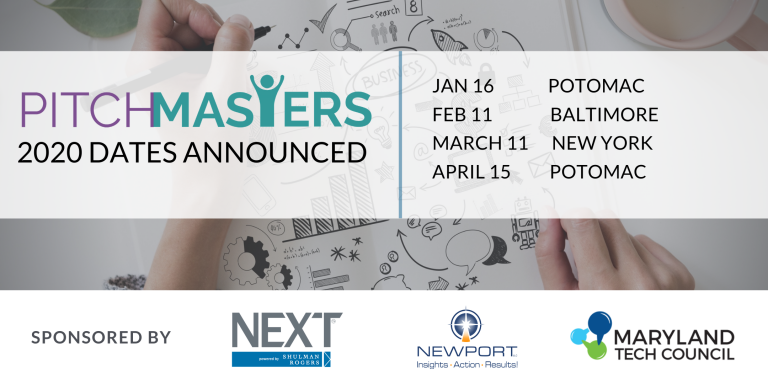 PitchMasters: 2020 Dates Announced!
Since PitchMasters creation, over 75 companies have presented their businesses to CEOs, advisors, business attorneys and investors to gain valuable feedback.


We are excited to announce our 2020 lineup:

January 16th in Potomac
February 11th in Baltimore
March 11th in New York
April 15th in Potomac
May 12th in Baltimore
June 11th in New York
September 16th in Potomac
October 14th in Baltimore
November 12th in New York
December 16th in Potomac
At this workshop-style event, four new companies seeking to become "pitch-perfect" will present their investor decks to the group and receive feedback to help refine companies' pitch before they go in front of the investors. This is a great opportunity for companies to get ready for that "ask".


Registration open for all First Quarter Events. The event is free but your RSVP is required.
Opportunities to present are limited so please
email us if you are interested in "perfecting your pitch" at any of our upcoming sessions.
Registration & details for remaining 2020 events coming soon!
Jan. Location
12505 Park Potomac Ave. 6th Floor
Feb. Location
The Vault @ Mindgrub Technologies
March Location
April Location
12505 Park Potomac Ave. 6th Floor
Agenda
4:00 pm: Doors Open
4:10 pm: Pitches Begin
6:00 pm: Networking
PitchMasters formed as a partnership between NEXT, powered by Shulman Rogers and Newport Group, as both organizations recognize the vast, innovative talent in the DC region and throughout the East Coast. In January 2019, the Maryland Tech Council joined as a third sponsor of the program.